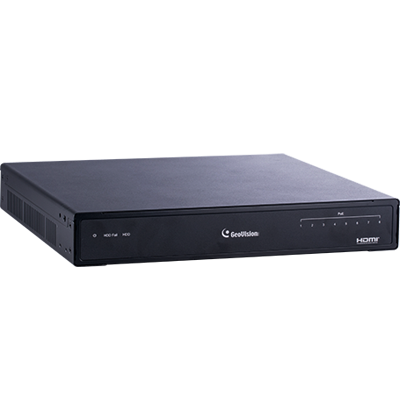 GV-SNVR0811
---
The GV-SNVR0811 is an H.264/H.265 Linux-embedded Standalone Network Video Recorder which records video files directly to the internal hard drive, supporting up to 8 channels of GV-IP Cameras for network surveillance. GV-SNVR0811 has 8-port built-in PoE+ (IEEE 802.3at), functioning to carry network and power to IP cameras. Featuring with up to 4K resolution video output, GV-SNVR0811 eliminates the need for a separate PC to view and play back video from the unit. Its USB ports allow you to connect a USB flash drive to import or export system settings, update firmware, save snapshot files and back up video in AVI format.
8-Channel video recording
Automatic search and set-up for IP cameras
Support for third‐party IP cameras through ONVIF and RTSP protocol
Up to 3840 x 2160 resolution for each channel
Dual streams support
Continuous, motion and scheduled recordings
Timeline playback
Multi-channel playback
Display of HDD status and system temperature
DST (Daylight Saving Time) support
NTP (Network Time Protocol) support
GeoVision DDNS server support
E-mail notification for recording error and password retrieval
Recording export
Remote live view through Web browser
Fisheye dewarping
Support for GV-Video Server through RTSP protocol
PTZ control using GV-Joystick or on-screen panel
8-Port PoE+ (IEEE 802.3at) for camera connection
4K HDMI video output
1 SATA HDD drawer (3.5") for up to 8 TB storage
Smart device access (iOS and Android)
Support for 13 languages
Model No
Name
Details
GV-POE Switch
The GV-POE Switch is designed to provide power along with network connection for IP devices. The GV-POE Switch is available in various models with different numbers and types of ports.
GV-Joystick V2
The GV-Joystick V2 facilitates the PTZ camera control. It can be plugged into the GV-SNVR for independent use to empower the operation of PTZ cameras.
GV-SNVR0811
AC power cord
AC/DC adapter (DC 56V, 2.32A, 130W)
SATA cable
HDD power cable
Screw x 4 (for HDD)
USB mouse
Download guide
Warranty card
GV-SNVR0811
AC power cord
AC/DC adapter (DC 56V, 2.32A, 130W)
SATA cable
HDD power cable
Screw x 4 (for HDD)
USB mouse
Download guide
Warranty card